Trading By Weight & New Zealand Law
Complying with NZ Law when
Trading by Weight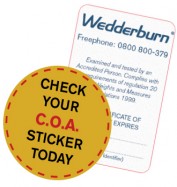 New Zealand's Weights and Measures Act 1987 determines trade law when the weight or measurement of a product being traded is important to that trade or sale. Wedderburn are able to assist you with choosing an approved scale as well as ongoing verification of accuracy.
Introduction
When trading by weight in New Zealand, it is a legal requirement to have an approved scale that carries a mark of verification. It is also strongly recommended retailers maintain current Certificates of Accuracy for their weighing equipment.
When used for trade, your measuring equipment must be:
accurate

of an approved type

verified and stamped
Compliance Checks
Random checks on retailers, importers and packers can be carried out by Trading Standards Officers. Should your equipment not meet requirements, you could face considerable fines.
Approved Scale Type
Before you buy, check that the scale you will be trading from is an approved type. Approved scales will have a verification mark in the form of either a crown or the letters "AP" followed by a number on a seal or sticker. Good practice also suggests you should always check to ensure the seal is in place after the scale has been serviced.
Accredited Persons
Accredited Persons are able to test equipment for weighing and measuring goods in compliance with weights and measures legislation. They are able to issue a Certificate of Accuracy which is valid for 12 months.
Other Requirements To Note
Customers must be able to see both the weighing and the weight of goods if they are being weighed in front of them.

A scale must be set to zero prior to weighing.

The weight of all packaging must be removed from the weight sold for pre-packed goods or loose goods put into containers. Having a tare function on your scale is a convenient way to quickly zero out the weight value of any containers or packaging.

In New Zealand, all goods must be measured in metric units.
Wedderburn is authorised to certify approved equipment legal for trade use. Our large force of field technicians are trained and approved as Accredited Persons to issue Certificates of Accuracy to the Weights and Measures Regulations for this purpose.
We can also provide full calibrations, making any necessary adjustments or repairs, often all in the same visit.
Regular technical service is essential to maintain accuracy and reliability as temperature variations, ageing, power fluctuations or moving the equipment may alter your scale accuracy.
Best practices for keeping scales accurate include;
Perform regular calibrations and maintenance checks, or

better yet, ask Wedderburn to do this for you and get a Certification of Accuracy issued at the same time.

Keep advertising signs and display stands away from the scale so that your customers get a clear view of the weighing process.

Ensure scales are kept clean by adopting good housekeeping measures

Avoid exposing scales to extreme temperatures (high or low) for lengthy amounts of time unless they are specifically designed to tolerate them.

If battery operated, change batteries regularly.

Move scales only when necessary and only when they are

powered off.

Keep scales on a level and firm surface and ensure the level bubble is centred.

Keep scales in environments suitable for their IP rating
To find scales Approved for Trade Use in New Zealand select the category of scale you're looking for then apply the Legal for Trade Use Filter.
The legalities surrounding Trading by Weight are outlined on the Ministry of Business, Innovation and Employment website. This guide is not intended to provide legal advice or replace in anyway whatsoever information provided by the Ministry of Business, Innovation and Employment.
Wedderburn Scales Ltd is an established weighing solutions company with more than 120 years industry experience. Our Accreditation Certificate can be viewed on our website.
We are committed to providing products and services which are of a constantly high standard and ensuring these standards are monitored and maintained at all times. Part of that commitment ensures all staff involved in calibration work have appropriate training and qualifications.
Download Trading By Weight Compling with NZ Law v3PDF 274KB