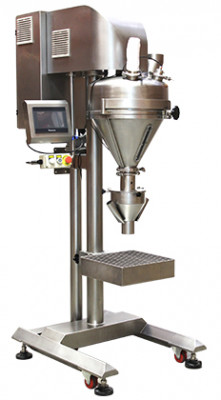 If you want to automate packing of powders or small granule products, you're likely to benefit from integrating an Auger Filler into your production line.
The right Auger Filler and tooling for you will depend on the dose size and product specification / characteristics. Wedderburn have a range of Auger Fillers with different hopper sizes and various attachment options to suit your business and offer personal consultation to determine the best solution for your business.
What are Auger Fillers and how do they work?
Auger Fillers are engineered for dosing powders or fine granules.
They work on a highly accurate measured revolution system to control the target weight. The dispensed amount is consistent with the amount of revolutions the auger spins, which means between batch to batch its likely small adjustments will be required. Servo Motors are most common for Auger Fillers to measure the required dose. Some units can have scale feedback so the Auger Fillers can automatically adjust for product inconsistency, although the Wedderburn Auger Filler range has a very simple and quick adjustment method through the operators touch screen.
What is meant by Product Characteristics?
A powder product is considered free-flowing when its particles are not cohesive. Examples of this are granulated sugar or table salt, which 'flow freely' when dispensed. Adding extra pressure usually will not compact these types of products, and they usually don't hold their shape when manipulated.
A powder product is considered non-free-flowing when the particles are cohesive. Examples of this are brown sugar or powdered milk, which tend to hold their shape when manipulated and can be compacted under pressure. Free-flowing product easily falls with the force of gravity while non-free-flowing product needs to be 'helped along' during the dispensing because of its compacting/binding properties.
Understanding the difference between free-flow or non-free-flow is vital to the success of any Auger Filler project. In particular, it directly affects the type of tooling required and programming configuration to properly dispense the powder product accurately.